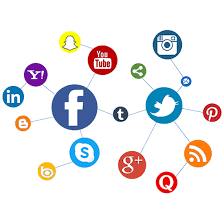 SEO, Search Engine Optimization, which is the effective process of optimizing website to get organic, or un-paid, traffic from the different search engine results page. Rather it's a process through which involves making certain changes in to website design and content that make your site more attractive, trustworthy and comfortable audience point view as well to a search engine. By doing this the search engine will display your website as a top result on the search engine results page.
Social Media Optimization is important activity and which helps to increase website traffic and potential buyers through social media platforms likes Facebook, Twitter, LinkedIn, and Google+, Instagram etc. Sahil Multimedia is top Social Media Optimization Company in Mumbai provides an online platform through social Media Sites that allows to interact with people and build social networks across the world. Social media is a healthy activity by which you can participate in discussions, share your thoughts, create your page to promote your business etc.
SM is leading Social Media agency in Mumbai that used widely by companies for promoting their brands and making their target markets aware of their products by organizing promotional campaigns on web. SM is SMO Company in Mumbai that explains the usage of different social media platforms available on internet which can be a helpful source for promoting and launching products and services on Facebook, LinkedIn, Google+, Instagram and other Social Media platforms. By this clients gets benefits like -
Allows Social Media Posts to drive targeted traffic.
It provides competitive edge and approach your potential customers first than your competitors.
It allows to build social network and interact directly with your clients. Through which you get to know your buyers interest, preferences, and expectations.
Target users of a particular location, education level and even the purchase history of customers.
Respond directly to customers queries and able to provide relevant further information to clarify their doubt.
Increases brand loyalty and build trust in customers.
Helps to boost sales through Social Media Marketing.
Increase your customer base.
Stronger Web presence.
Generate potential Lead
Stay connected with Potential Customers.
So SM provides and offers Social Media Marketing in Mumbai which make possible opportunity for business and brands to get maximum exposure so that your business can have a stronger web presence.